<![if !vml]>

<![endif]>
Health Impacts
The Department of Health and Human Services Centers for Disease Control and Prevention has released the Fourth National Report on Human Exposure to Environmental Chemicals, 2009. The Report is cumulative (containing all the results from previous Reports) and provides new data for years 2003- 2004.
In May 2010, the Chief Medical Officer of Health released a report titled The Potential Health Impact of Wind Turbines.
What's New!
Upcoming Webinars – The Federation of Canadian Municipalities has some great webinars coming up including How Municipal Leaders Are Reducing Fleet Emissions and Carbon-Neutral Local Government click here to sign up now.
Register today for a webinar Green Fleets Heavy Duty Vehicle Life Cycle and Environmental Costing Tool – on October 21st at 10:00am.
Workshop - Moving Towards Adaptation is being held by the Ontario Centre for Climate Impacts and Adaptation Resources (OCCIAR) on October 27th and 28th. To register please contact Jackie Richard at 705-675-1151 ext 2014 or email at jrichard@mirarco.org
<![if !vml]>
<![endif]>
Natural Resources
The Canadian Boreal Forest Agreement A Historic Agreement - signifying a New Era of Joint Leadership in the Boreal Forest.
On February 13th, 2009, the Clean Air Partnership hosted the first Climate Change and Urban Forestry Workshop. Read here to learn about the proceedings.
<![if !vml]>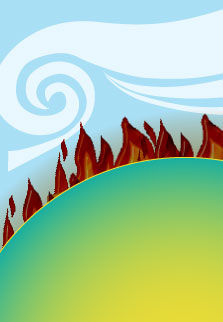 <![endif]>
Climate Change and Global Warming
Urban Form and Extreme Heat Events: Are Sprawling Cities more Vulnerable to Climate Change than Compact Cities? This study examines the association between urban form at the level of the metropolitan region and the frequency of extreme heat events over a five decade period
The Clean Air Partnership has prepared A User Needs Assessment for GeoConnections. The assessment, titled Developing a Geospatial Decision Support System to Address Extreme Heat and the Urban Heat Island Effect in the Greater Toronto Area, was to identify and describe the need for a decision
support system to help local government decision-makers address questions relating to heat in the GTA
Clean Air Summit - Read all about the proceedings from the Clean Air and Climate Change Summit Proceedings that occurred on June 2nd 2010.